Dental IMPLANTS
Dr. Bartsch is the only Oral Surgeon in Sligo providing implant treatment who is a registered specialist with the Dental Council of Ireland. Implant placement is a surgical procedure which requires specialist training and skills. Patients should always ensure that the surgeon has the requisite qualifications and is a registered specialist. You can view the register here.
Missing Tooth Options (Anterior)
What are Dental Implants?
Implant dentistry is the most advanced therapy available today to replace absent teeth.
Dental implants can be used to replace a single lost tooth or many missing teeth.
They support crowns, bridges or dentures.
Dental implants are surgically placed into the jawbone.
A dental implant is a small screw made of titanium which bonds with the jaw serving as a replacement for teeth.
Titanium is compatible with living tissues, allowing your body to naturally accept the implant.
Provides a stable foundation for replacement teeth.
Preserves the neighbouring teeth and bone structure.
Helps keep the bone healthy.
Implant borne dentures can be easily removed for cleaning and replaced with a simple, firm fit.
More beneficial than conventional removable dentures, which have little or no stimulation of the bone causing deterioration over time.
The Benefits of Dental Implants
Lifestyle
How will dental implants make you look and feel?
Dental implants can help to improve your overall quality of life.
Helps you to appear younger and healthier by restoring facial structure.
Helps you to feel more attractive by improving your smile.
Resolves the problems of pain and discomfort caused by removable dentures.
Shifting, slipping, and "chatter" are eliminated.
Allow you to speak naturally and feel like yourself.
Eat whatever you like.
You can bite and chew naturally thus improving digestion.
You can enjoy your favourite foods again.
Helps to improve your eating habits.
Your ability to taste may improve.
You will have improved comfort, security, and confidence.
Provide a permanent solution for missing teeth.
Simply help you enjoy an active lifestyle, enjoy life to the full.
Finance
What are the costs involved and how can patients spread the costs?
Dental implants are more affordable than ever before.
Cost of dental implants is dependant on the individual case.
We can discuss the question of cost and help you make financial arrangements.
You can choose the method of payment that is best for you.
The implants and restoration are sometimes covered at least partially by insurance, depending on your policy. (VHI, LAYA, Garda Medical Aid, ESB)
Cost covers:

highly skilled professionals
highly customised treatment plan and specialist implant laboratory
valuable materials and technology

Some patients require bone grafting or healing procedures that can add to the cost of the treatment plan.
Dental implants are an investment that can help to improve your quality of life.
Practical
Function and stability of the denture and bone preservation?
Dental implants have over 90% success rates in long-term function.
Expect to last a lifetime if you practice careful oral hygiene, do not smoke, do not apply excessive/traumatic loads and attend for regular (six monthly) examinations.
Stability is improved due to newer technology and materials for long-lasting results.
Titanium is a compatible material which naturally bonds with the jawbone.
Minimal chance of the body rejecting this method of treatment.
A healthy tooth root transfers biting forces to the bone and maintains its strength and position.
Dental implants are extremely strong, helping to eliminate slippage.
Help keep other teeth in position.
Helps to prevent bone loss.
Research shows that in many cases dental implants are stronger then natural teeth.
Dental implants are an increasingly popular alternative to dentures and bridgework.
Implants are basically artificial tooth roots that are surgically placed into the jaw bone. Once in place, these "roots" can be used to attach different types of dental prosthesis including crowns, bridges and dentures in a removable or non-removable fashion.
The implants are surgically placed usually under local anaesthetic into the jaw bone using a gentle procedure with specifically designed instrumentation. The implant will have a healing cap attached and will be allowed to heal for 8-12 weeks. If you wear a denture it can be adjusted to fit over the implant during this healing period, so there is no cosmetic embarrassment.
After 8-12 weeks, the patient returns to the clinic to have the restorative procedure completed. At this point the tissues have healed and the implant has stabilized itself within the bone and is ready to support the tooth crown or prosthesis which will be attached to it.
An impression is taken to provide a model for the laboratory to design the final crown or prosthesis, an abutment (platform) is attached to the implant and the crown/bridge cemented permanently in position or a denture is made to attach to the implants.
If you have no teeth at all, again the surgical procedure is the same, depending on your dental condition, you may be able to select one of the three different types of full arch implant supported prosthesis:
Fixed: a permanent replacement that can only be removed by the dentist.
Removable: allows you to remove the prosthesis whenever you wish. The implants underneath it ensures that the prosthesis is held securely in your mouth.
Fixed-removable: utilizes a mechanism to lock the prosthesis onto the implants using locators. If you need to, you can unlock the mechanism to remove the prosthesis.
Dr. Bartsch is an expert at placing all of the above implant options, why not take a look at our gallery, all the implant patient photographs are of actual patients of his.
Treatment Gallery
Case 1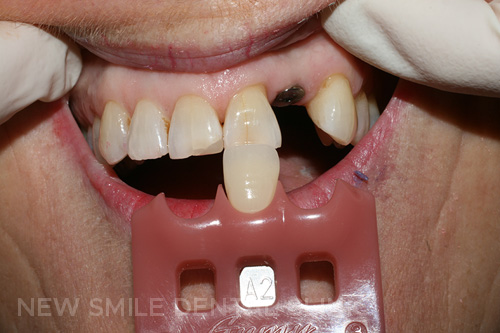 Case 2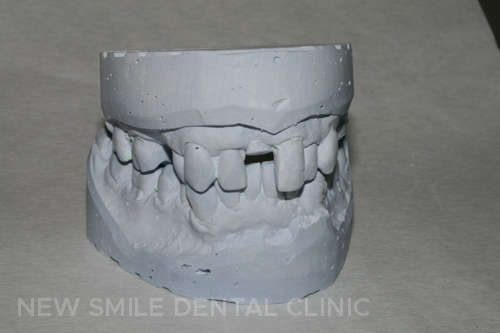 Case 3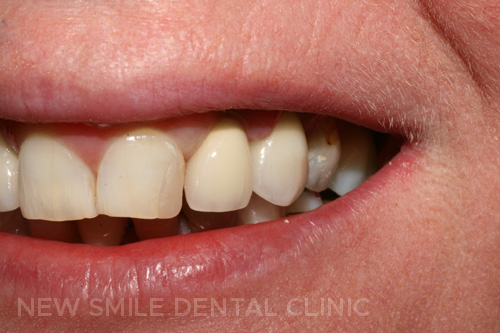 Case 4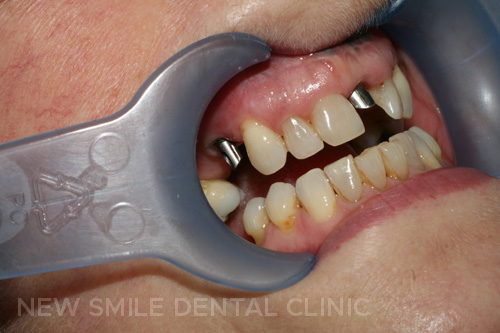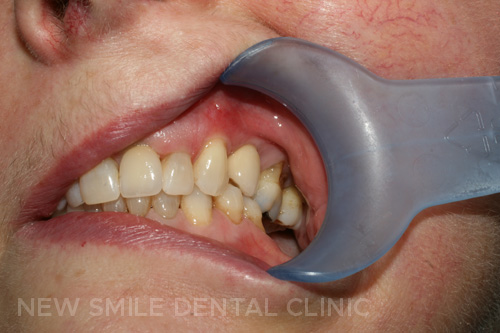 Case 5
Case 6
Case 7
Case 8
Case 9
Case 10